Dental Products For Sale In Toronto,ON
These products and supplies are available directly from our laboratory to you. The dental marketplace is constantly evolving with new and exciting products, materials, and techniques. We would like to share with you our discovery of new products that can provide a significant advancement to your ability to provide better care and treatment to your patients.
Call the Lab for Pricing and Special Promotions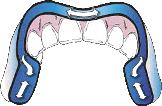 Simplifies TMD Diagnoses & Treatment Planning
The Aqualizer's "Floating Action" allows posterior segments to equilibrate – allowing muscles to relax.
Using the laws of fluid dynamics, a prosthodontist at the University of Illinois came up with this simple device consisting of two water pads, connected by an equalizing channel.  When placed in the mouth, the Aqualizer allows both left and right sides of posterior segments to equilibrate with each other, allowing the muscles of mastication to relax.  Its floating action makes it an excellent tool to simplify TMD diagnoses & treatment planning.  It can act as a temporary pain control splint, as well as guide your equilibration technique for either teeth or splints.
Aqualizer Muscle Directed Bite Registration – a perfect bite the first try.
A Simple Step-by-Step Procedure to Capture the Open Bite for Splints and Nightguards
Just as important as the material, is the design of the partial. Not only must the partial fit and function, but it should also provide support to the teeth it is utilizing, as well as be aesthetically pleasing. With our extensive experience in the field of removable cosmetic dentistry, we have come to favor the "Hidden Clasp Cast Partial Denture Design". It is highly effective in protecting, preserving and strengthening the abutment teeth. It is both retentive and stable, and designed to provide the patient with complete comfort. The fact that the clasps are hidden is an aesthetic feature that most patients will appreciate.
For your additional convenience, our laboratory now stocks the Low, Medium, and High Volume Ultra and Mini Aqualizer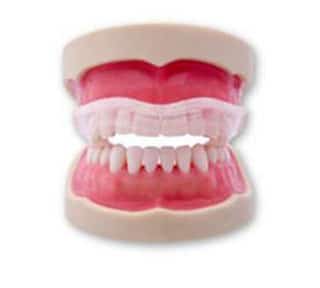 Step 1: – Insert an Aqualizer™ into the mouth allowing the muscles to bring the mandible to its natural, most comfortable 3-D position, (great in combination with T.E.N.S. and jaw tracking). Add base plate wax under pads for small increases of less than 2mm, if there is no spasm in the muscles, step two can be performed 10 minutes after insertion.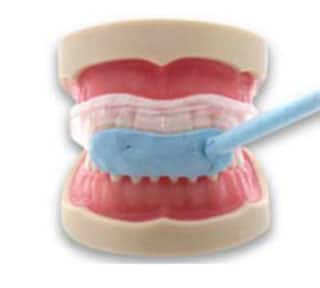 Step 2: –  Instruct the patient to bite down naturally with the Aqualizer™ still in place, while injecting silicone from cuspid to cuspid.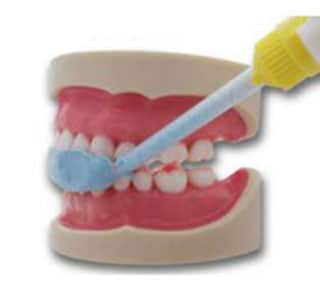 Step 3: –  Remove the Aqualizer™ with the anterior bite still in place. Inject registration material between the occlusal surfaces of the left and right posterior teeth. Instruct the patient to close carefully into the previously established anterior bite. Allow the silicone to set.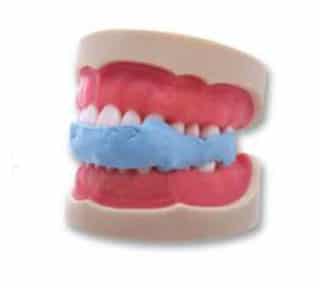 Step 4: –Remove the one-piece full arch bite registration from the mouth.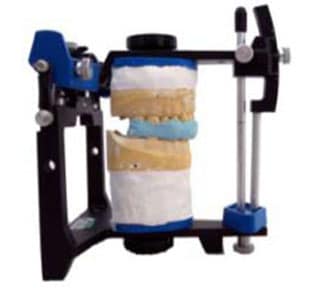 Step 5: – Assemble the patient's dental casts accurately into the bite registration. Send this assembly to the lab, or mount the combined casts/registration assembly on your articulator.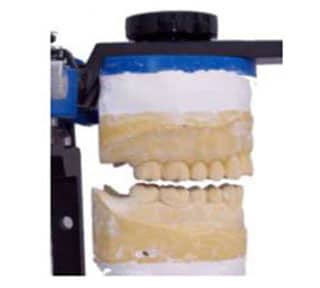 Step 6: – Remove the silicone bite registration. The Aqualizer™ allows you to preview, and then accurately reproduce for splints, the most functional cranio-mandibular occlusal relationships.
By Ron Klausz, RDT
Oral Health article – 3 pages, fully illustrated provides the simple step-by-step procedure – to capture the open bite for splints and bruxism appliances.


Smile Again & Spray'n Fresh Cleaners
Helping To Care For The Products We Create With Innovative Cleaning and Care Solutions
The Aqualizer's "Floating Action" allows posterior segments to equilibrate – allowing muscles to relax.
We've always been dedicated to providing our clients, and their patients, with superior dental appliances. We are equally committed to ensuring that these appliances can be properly cared for. For years, we've been including with our dentures a sample of "Smile Again Denture Cleaner", with the opportunity to contact our lab and re-order; we are now delighted to be able to provide our exclusively formulated "Spray'n Fresh Dental Appliance Cleaner" with all our splints, night guards, orthotics and sleep appliances, and "Spray'n Fresh Mouth Guard Cleaner" with all our sports and athletic mouth guards.
A FREE sample of Smile Again Denture Cleaner, Spray'n Fresh Dental Appliance Cleaner, & Spray'n Fresh Mouth Guard Cleaner are provided with each new dental appliance and can easily be reordered from our newly created website.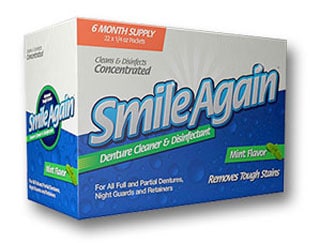 Smile Again
Denture Cleaner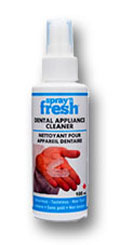 Spray'n Fresh
Dental Appliance Cleaner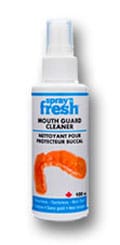 Spray'n Fresh
Mouth Guard Cleaner

ACU-Flow

Bite Registration Material
NOW Available from Klausz Dental Laboratories
We are always looking for ways we can improve on the quality of the restorations and services we offer our clients. When we find a material, process, or technique that can help us deliver a better result to your patients, we're eager to share what we have learned.
We are proud to announce you can now purchase ACU-Flow Bite Registration Material directly from Klausz Dental Laboratories.
The ADVANTAGES of
ACU-Flow Bite

 are Clear
A High Durometer Product
Will Not Slump
Will Not Fragment
Easy to Trim
Will Not Distort under Pressure of Articulation
Working time – 15 sec.
Minimum intraoral setting time – 45 sec.
Maximum total cure time – 1 minute
ACU-Flow Syringeable Vinyl Polysiloxane
For Highly Accurate And Detailed Bite Registrations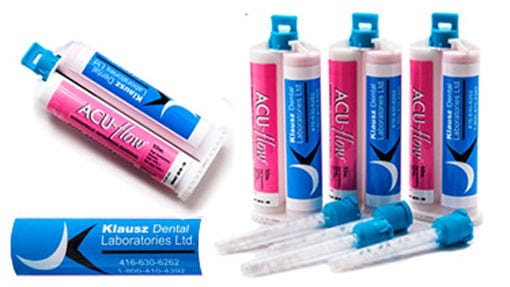 With over 50 years experience in the dental laboratory field, we've worked hard to earn your trust, and it's a trust we do not take lightly. Every day we strive to exceed your expectations, and being able to provide you with more great products is just another way we are, "Working Harder and Smarter for your Practice!"
VISIT US
---
Mailing Address
40 Kodiak Crescent, Units 11-12
Toronto, ON, M3J 3G5
HOURS OF OPERATION
---
Monday: 7:30am - 5:30pm
Tuesday: 7:30am - 5:30pm
Wednesday: 7:30am - 5:30pm
Thursday: 7:30am - 5:30pm
Friday: 7:30am - 5:30pm
Saturday: Closed
Sunday: Closed