Dentures – Complete & Partial
Complete & Partial Dentures in Toronto, ON
We are always striving to provide our clients with newer materials & techniques for grater fit, function, and aesthetics with less wasted chair time.
As the population gradually ages, the demand for greater function and higher aesthetics is increasing. We recognize this and as a result, we are proud to introduce our natural looking complete and partial denture systems. Using the newest materials and processing techniques, we are able to reduce unnecessary office visits and wasted chair time, usually associated with removable dentures. We are here to help make it easier for you to take an active role in meeting the needs of the largest and most discriminating population segment in the North America.

SR Ivocap – Acrylic Injection System
Injection + Heat Curing = Strength + Aesthetics + Time Saving
In 1976 the SR Ivocap System was launched. This leading edge injection system revolutionized the field of dental prosthetics. Since the introduction of SR Ivocap, more than 9000 quality laboratories throughout the world have taken advantage of this exceptionally precise processing system.
Denture base acrylics are subject to chemical shrinkage during polymerization. As a result, the finished dentures often exhibit considerable inaccuracy, particularly if conventional fabrication methods are used.
With SR Ivocap, chemical shrinkage is not an issue. The SR Ivocap system is based on a special injection technique that is capable of compensating for chemical shrinkage. Controlled heat/pressure polymerization compensates for acrylic shrinkage by pressure feeding additional material into the mould.
A healthy mucous membrane
Because of the exceptionally homogeneous denture base, the risk that the dentures will irritate the mucous membrane is reduced.
Ease of cleaning
The exceptional polish ability of the denture base material, composed of cross-linked, high-impact acrylic reduces the build-up of plaque.
Comfort
Optimum shrinkage compensation enables the fabrication of dentures that fit precisely.
High impact strength
The impact modifier, inside the SR Ivocap acrylic, assures high fracture strength.
Accuracy of fit
Controlled polymerization prevents raised bites and spherical deformation. As a result, time-consuming adjustments of occlusion and the destruction of occlusal morphology can virtually be eliminated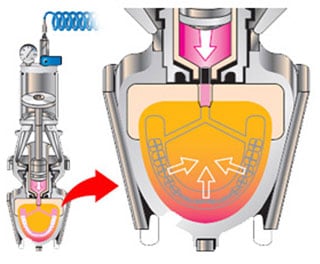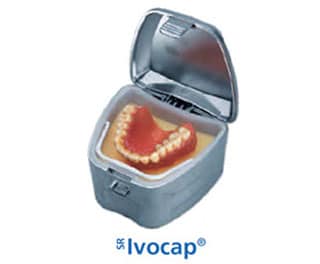 No Shrinkage / No Distortion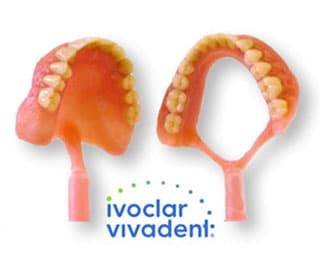 Accurate, Strong & Comfortable
The IVOCAP Process – The STANDARD since 1976
The KEY to Success… is in the Design and Materials
Klausz Dental Laboratories vast experience in the field of removable cosmetic dentistry enables us to offer outstanding cast partial solutions. The key to providing superior cast partial solutions lies in the materials used and in the design of the partial. Our extensive experience has led us to use the finest materials and enabled us to develop highly efficient design techniques.
For many decades, cast partial dentures have been the method of choice when it came to the rehabilitation of the partially edentulous patient. Cast partials can be made from a variety of materials to match the needs of each individual patient. Dental gold and chromium cobalt have been the standard materials of choice, however, newer, lightweight and more bio-compatible metals, such as titanium alloys are now available.
The Hidden Clasp Cast Partial Denture
Just as important as the material, is the design of the partial. Not only must the partial fit and function, but it should also provide support to the teeth it is utilizing, as well as be aesthetically pleasing. With our extensive experience in the field of removable cosmetic dentistry, we have come to favor the "Hidden Clasp Cast Partial Denture Design". It is highly effective in protecting, preserving and strengthening the abutment teeth. It is both retentive and stable, and designed to provide the patient with complete comfort. The fact that the clasps are hidden is an aesthetic feature that most patients will appreciate.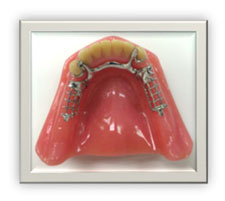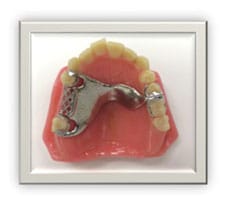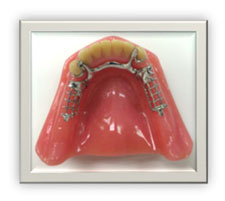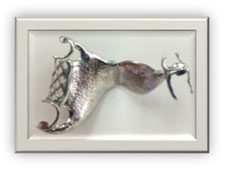 Removable – Soft Denture Liners
Soft denture liners provide excellent solutions for patients whose dentures are causing a discomfort. Made of a specially compounded dental plastic, soft denture liners make a substantial difference for "sensitive" patients.
Most denture patients can wear rigid dentures satisfactorily. Experience has shown, however, that some people have difficulty wearing rigid dentures and would be better served with dentures that have soft liners. There are many reasons patients would need permanent soft liners added to their dentures. For example, when the tissue covering the bone is thin, unyielding, sensitive and easily irritated by denture impingement. There are times when a hard palate cannot comfortably accommodate the conventional rigid denture base. Or when recent surgery or such anatomical irregularities as torus palatinus or mandibularis indicate special consideration for the bearing area. If the underlying ridge is narrow, thin, irregular or spiny; or when, because of the health or age of the patient, indicated surgery is not employed to correct the form or size of the ridges or to remove bony spicules.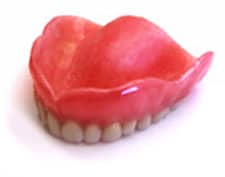 The soft lining is a specially compounded dental plastic. This plastic is designed to make dentures more comfortable and efficient despite tissue irregularities. Most patients find that this cushion will remain comfortable for many months. How long it will remain soft depends on many factors, however we use some of the most advanced materials presently available.

Biocryl Temporary Removable Partial Dentures
The Biocryl technology provides a simpler, more comfortable way to retain and replace missing anterior teeth. Now you can provide your patients with exceptionally aesthetic temporary removable partial dentures that are comfortable to wear and easy to maintain.
Patients today can present in your office with a multitude of problems when it comes to their overall oral health. When it comes to aesthetics, the loss of an anterior tooth or teeth is an immediate concern. Sometimes the demands of the patient for an instant solution can uncover other problems that need to be addressed. These may involve such things as periodontal inflammation, the need to extract other teeth, or the repair of decay.
In the past the solutions were to jump right in and prepare the adjacent teeth for fixed crown and bridgework and then to provide a temporary fixed bridge, to provide the patient with a removable flipper appliance to wear that was bulky and uncomfortable, or to do nothing at all.
Today we have another option, the Biocryl Temporary Removable Partial Denture. The Biocryl material is formulated from a thin piece of specialty plastic that comes in various thicknesses. The patient's missing teeth are replaced on the model with denture teeth to the correct shade and mould, or another option is to incorporate the patient's old crown or bridge into the appliance when possible. The Biocryl material is vacuform molded to fit snugly over the restorative and natural teeth. Finally, the appliance is trimmed to just cover the natural teeth, stopping just before the tissue.
The Biocryl technology provides a simpler, more comfortable way to retain and replace missing anterior teeth.
Now you can provide your patients with exceptionally aesthetic temporary removable partial dentures that are comfortable to wear and easy to maintain.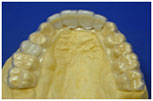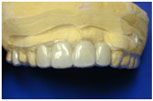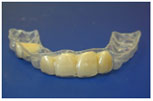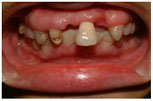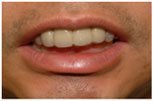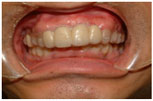 VISIT US
---
Mailing Address
40 Kodiak Crescent, Units 11-12
Toronto, ON, M3J 3G5
HOURS OF OPERATION
---
Monday: 7:30am - 5:30pm
Tuesday: 7:30am - 5:30pm
Wednesday: 7:30am - 5:30pm
Thursday: 7:30am - 5:30pm
Friday: 7:30am - 5:30pm
Saturday: Closed
Sunday: Closed