Offering a wide variety of restorative options is one of the things we pride ourselves on. Whether you're looking for more choice in dental alloys or prefer almost pure gold, we have the technical expertise you seek. If you're looking for the utmost in aesthetics, our technicians are highly skilled in the latest all-ceramic and polymer glass systems. With so many choices available in materials today, why not take advantage of our experience and try something new today.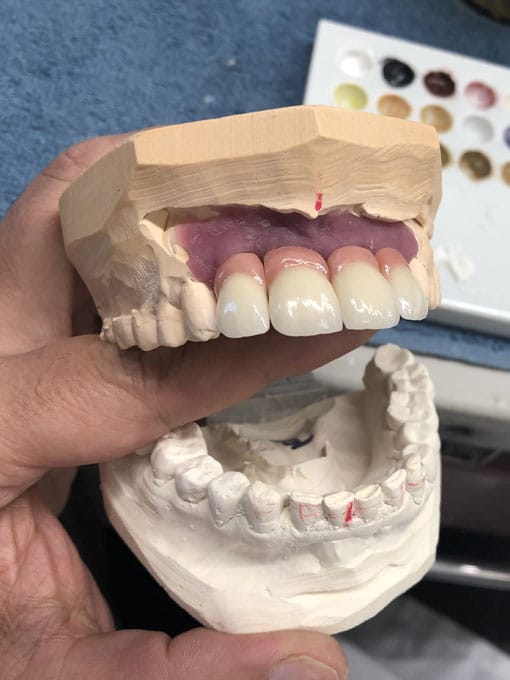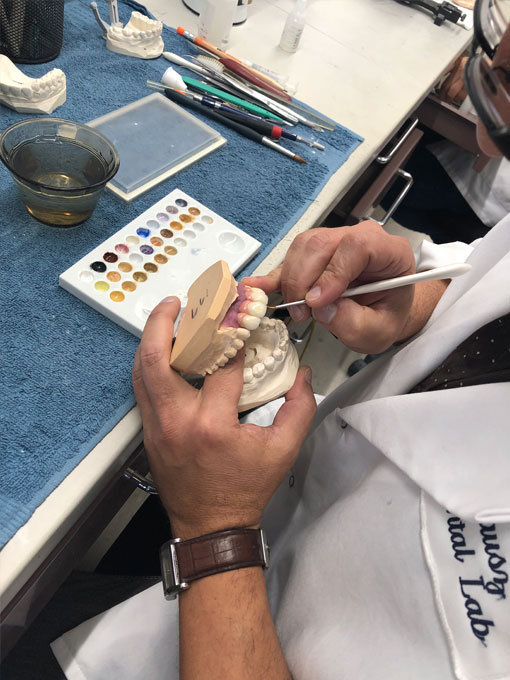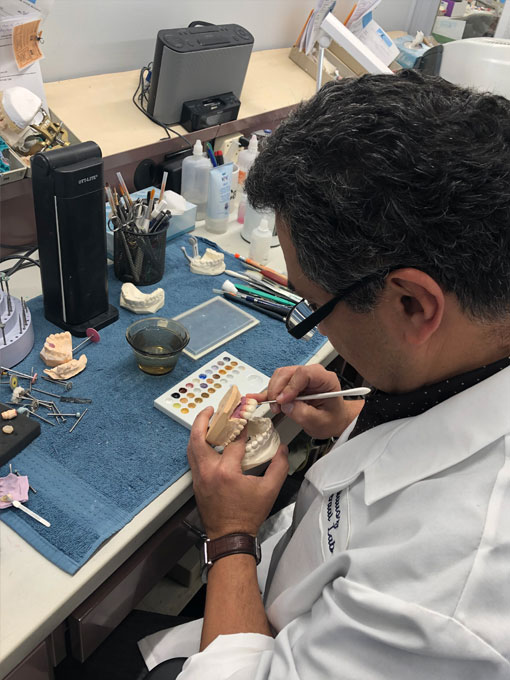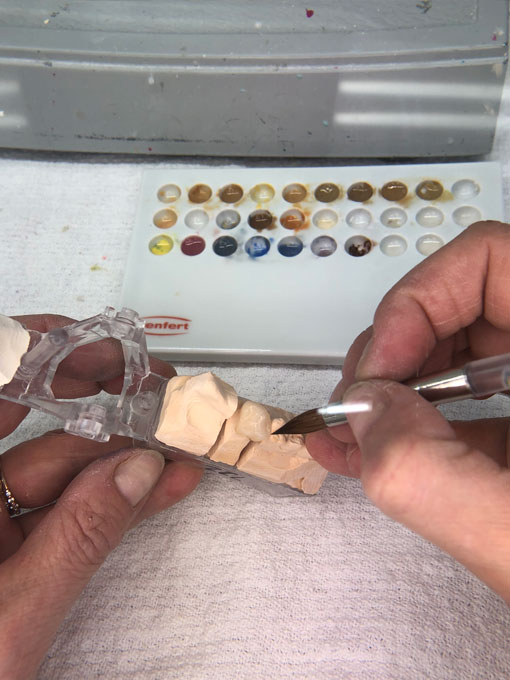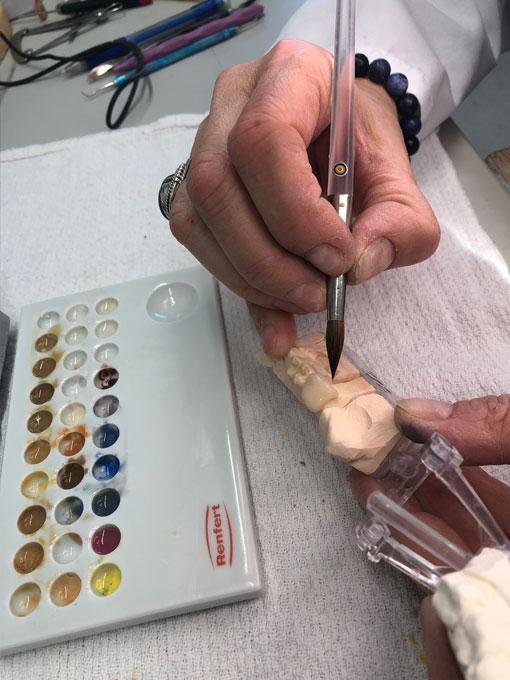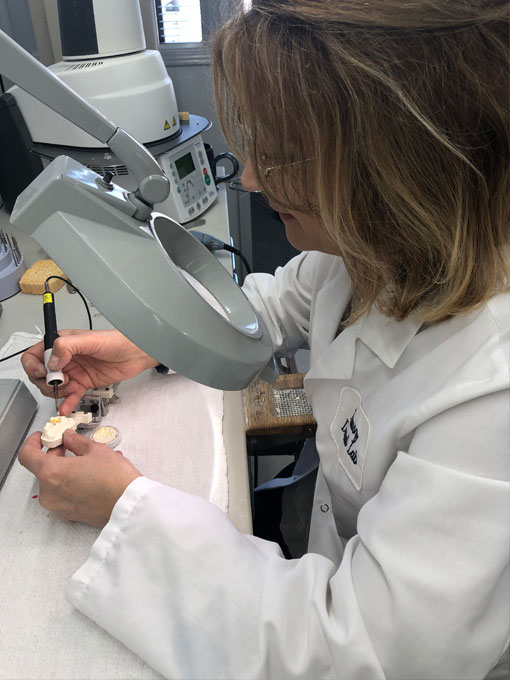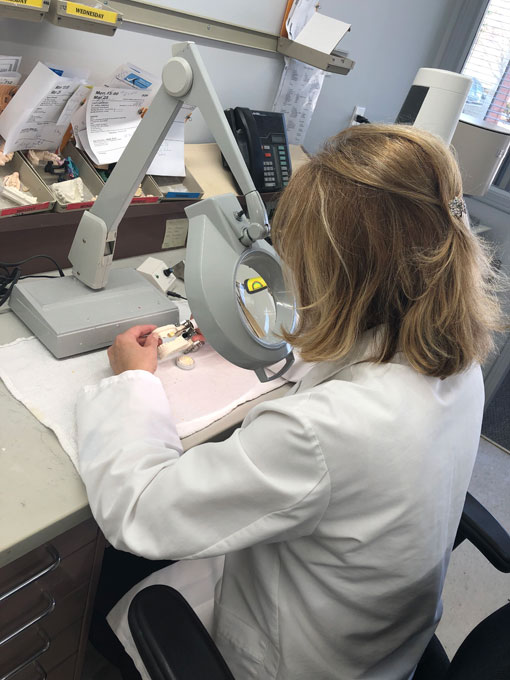 Comprised of biocompatible lithium disilicate, IPS e.max Press provides the fit, form and function of a pressed ceramic with maximum aesthetic characteristics, and exceptional flexural strength at 400 MPa.
Available in Various Degrees of Translucency
IPS e.max Press ingots are available in varying degrees of translucency for maximum versatility. Ingots come in the High Translucency (HT) created for inlays, onlays and veneers, Low Translucency (LT) which is ideal for creating one-step fully anatomical restorations, Medium Opacity (MO) is intended for devitalized, slightly discolored preparations, and High Opacity (HO) is for preparations that are non-vital and severely discolored. The LT ingots are available in the 9 most popular A-D shades as well as 4 contemporary bleach shades.
Conventional or Adhesive Bonding
Due to their high strength, the restorations can be conventionally cemented. Alternatively, they can be adhesively bonded. This provides maximum flexibility to address clinical needs.
Full Contour or Cut-Back / Build-up Technique
IPS e.max restorations are available in two forms. You can choose full contour that provides high strength and beautiful aesthetics as an alternative to zirconia and precious metal. For more demanding cases, we can fabricate restorations utilizing the cut-back and build-up technique. Final veneering with IPS e.max Ceram, a proprietary nano-fluorapatite layering ceramic, offers unparalleled esthetics.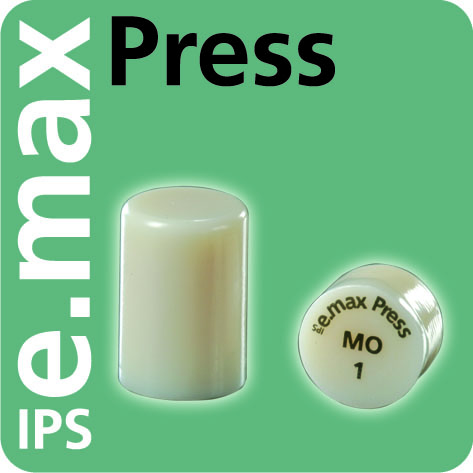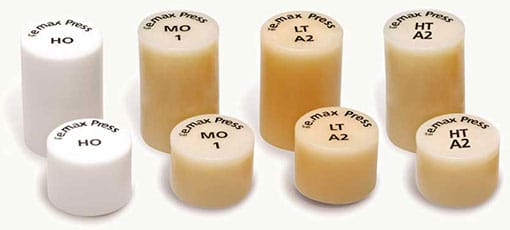 IPS e.max Press provides the ultimate in all ceramic restorations:
Outstanding aesthetics combined with high flexural strength
Exceptional wear profile on the antagonist tooth, even kinder than natural enamel
Conventional or adhesive cementation options for clinical flexibility
We are confident that we can provide you with the high quality you have come to expect from our laboratory in these versatile all-ceramic restorations.
Klausz Dental Laboratories is a fully certified IPS e.max Laboratory.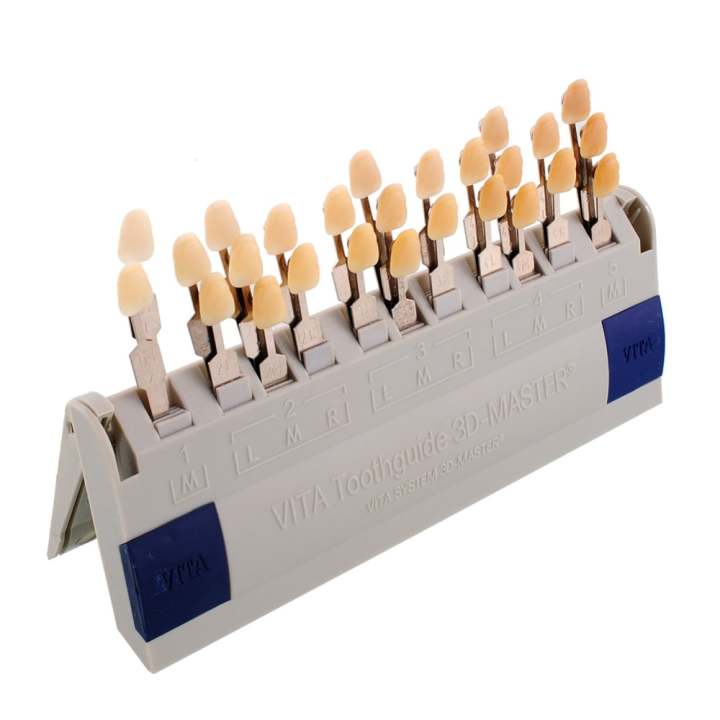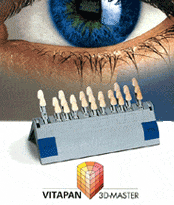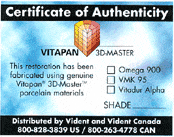 In order to provide our clients with the most accurate shade matching system, we have chosen the Vitapan 3D Master Shade System. The Vitapan system provides highly accurate matching whether matching a bridge, a partial denture or a single central. The Vitapan system is the only shade guide in the world that takes into consideration all three elements of color and creates a systematic, objective, and simple method for communicating the shade to our lab.
Characteristics
Proper shade communication is easier than you think when armed with the correct knowledge and tools. Consider all three elements of color when applied to a tooth; is it light in value, yellowish or reddish in hue or light in chroma? Now imagine a shade guide with an accompanying PFM and an all-ceramic system of precisely shade matched restorative materials that gives you proper and complete control over these elements. That's exactly what VITA has done.
Whether matching a bridge, partial denture or the ever-challenging single central, VITA now provides the only shade guide in the world that takes into consideration all three elements of color and creates a systematic, objective, and simple method for communicating the shade to our lab. It's called the VITAPAN 3D-MASTER Shade System.
Klausz Dental Laboratories is an authentic VITAPAN 3D-MASTER Laboratory.

Ultra Thin Porcelain Veneers
For Doctors and Patients Who Expect the Finest in Aesthetic Restorations
Cosmetic dentistry has made great strides since Dr. Charles Pinius first developed porcelain veneers in 1938.  Today a patient seeking cosmetic procedures demands results that are long lasting, natural in appearance, and compatible with existing structures.  Research and development of new materials enable us to meet these demands.
With the use of today's specially formulated veneering porcelains, ultra thin veneers of 0.3mm to 0.6mm can be made with less tooth reduction, thus decreasing the probability of sensitivity.  Nature creates a tooth through a series of layers.  Our Ultra Thin Veneers are developed in the same way.  Our technicians apply a series of the finest porcelain powders to match the patient's shade of choice.  Through this process, the technician builds chroma, value, and hues internally, the way nature meant them to.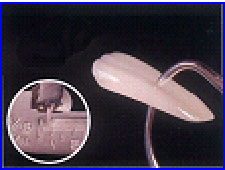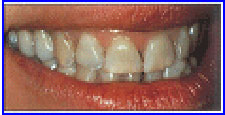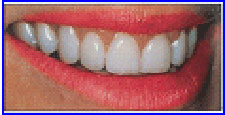 Translucent masking dentins enhance the ability to hide badly discoloured teeth, while providing the same translucency, depth of colour, and fluorescence inherent in natural teeth.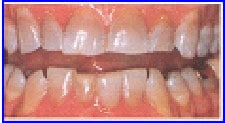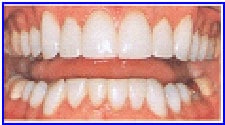 Add to this our Exclusive Bite Equilibration Technique and you're sure to receive restorations of the highest quality. Equilibration is essential to establish the correct occlusion. It involves eliminating incline interference's, and doing away with adjustments that lead to wasting valuable chair time.
Your patients expect you to provide the finest aesthetic restorations available. Now with Ultra Thin Veneers, you can offer them the world's most beautiful smile. We're eager to be a partner to your success, and are able to provide you with information on case design, preparation, and bonding techniques.
At Klausz Dental Laboratories, we take great pride in being able to provide our clients with the best dental materials science has to offer.  Staying current is just another way we are, "Working Harder and Smarter for your Practice!"

Multi-Layered Full Contour Milled Zirconia Restorations
Strength and Beauty Come Together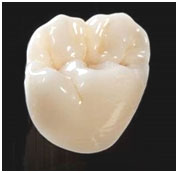 Regardless of the clinical situation, today's patients demand an aesthetic restorative outcome that matches or even looks better than their natural teeth, all the while exhibiting great strength. Traditionally, this demand has been met by the use of porcelain fused to metal restorations. However, many patients present with signs of bruxism or exhibit worn dentition that does not allow for the use of traditional ceramic restorative options. In the past, the solution for the most challenging of cases was full metal or metal occlusal restorations.
With the advent of dental milling came the first generation of Full Contour Zirconia Restorations. Original zirconia materials were extremely hard and opaque, and were difficult to match the shade and translucency of natural teeth.
Today's solution is Multi-Layered Full Contour Zirconia Restorations
Multi-Layered Zirconia brings beautiful aesthetics to the strength of full contour zirconia.
Bringing you the latest in material science is just another way
we are, "Working Harder and Smarter for your Practice!"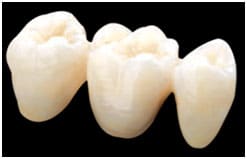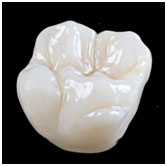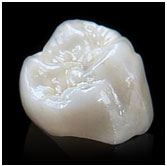 Low Wear to Opposing Dentition
Higher Translucency than Traditional Zirconia
Pre-Shaded Material Eliminates White Spots After Clinical Adjustments
Conventional Cementation Indicated
Extremely Strong and Resistant to Fracture/Chipping
Conservative Preparations
0.5mm minimum thickness
Feather edge preparations

Porcelain Layered onto Milled Zirconia Restorations
Trusted Aesthetics, Trusted Fit, Trusted Consistency
For decades, PFM has set the standard for strength, durability and marginal fit.  With milled zirconia, these standards have now been enhanced with aesthetics.  By utilizing the latest innovations in CAD/CAM technology for all-ceramic crowns and bridges, we source only the most trusted and reliably proven zirconium oxide base materials.  We then layer them with the finest dental porcelains for beautiful, lifelike results.
The aesthetics and biocompatibility of these restorations represent the optimum in all-ceramic systems.  Preparations require minimal removal of tooth structure, and cementation can be accomplished using proven, conventional techniques. Porcelain Layered onto milled zirconia crowns and bridges are suitable for both anterior and posterior applications.
The milled zirconia copings and bridge frameworks are tinted to match the shade of the final restoration.  As well, the frameworks are thin and translucent which ensure a natural appearance, however they can also be milled using a more opaque zirconia material, which due to its opacity, can mask out dark or discoloured prepared teeth.
Our porcelain layered onto milled zirconia restorations provides the most durable and aesthetic, high-strength all-ceramic restorations available today.
Why you can be assured that these restorations are right for your patients…
The future of all-ceramic crowns and bridges is here and now available at Klausz Dental Laboratories. Innovation – just another way we are, "Working Harder and Smarter for your Practice!"

Laboratory Fabricated Temporary Restorations
Temporization – The first steps to patient satisfaction
Most patients today have genuine concerns about aesthetics and function prior to proceeding with many forms of cosmetic dentistry. There are many options to help guide you and your patients to a desirable result, such as Cosmetic Digital Imaging or Diagnostic Wax-Ups (both services are available through our laboratory). Before you spend valuable time and money on final restorations, consider the many benefits to laboratory fabricated temporary restorations.
These types of restorations allow an inexpensive view to the future where tooth shape, size and embrasure space can be determined; as well, possible phonetic consideration can be diagnosed. Utilizing today's advanced light cured composites or milled pmma materials, gives us the benefits of greater translucency and shade matching than ever before.
 Judge for yourself the many benefits of the latest in laboratory produced temporary restorations.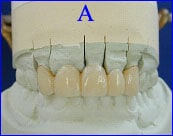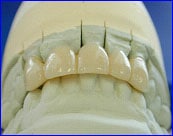 Which would you choose? A or B
Should we place only 5 teeth instead of the usual 6?
How wide should the gingival embrasures be?
Would a square, tapering or ovoid mould be more appropriate?
Should the midline coincide with the opposing arch?
How much overbite and overjet would be appropriate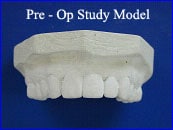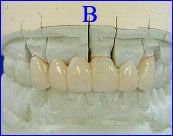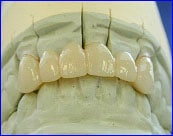 VISIT US
---
Mailing Address
40 Kodiak Crescent, Units 11-12
Toronto, ON, M3J 3G5
HOURS OF OPERATION
---
Monday: 7:30am - 5:30pm
Tuesday: 7:30am - 5:30pm
Wednesday: 7:30am - 5:30pm
Thursday: 7:30am - 5:30pm
Friday: 7:30am - 5:30pm
Saturday: Closed
Sunday: Closed