Comprised of biocompatible lithium disilicate, IPS e.max Press provides the fit, form and function of a pressed ceramic with maximum aesthetic characteristics, and exceptional flexural strength at 400 MPa.
Available in Various Degrees of Translucency
IPS e.max Press ingots are available in varying degrees of translucency for maximum versatility. Ingots come in the High Translucency (HT) created for inlays, onlays and veneers, Low Translucency (LT) which is ideal for creating one-step fully anatomical restorations, Medium Opacity (MO) is intended for devitalized, slightly discolored preparations, and High Opacity (HO) is for preparations that are non-vital and severely discolored. The LT ingots are available in the 9 most popular A-D shades as well as 4 contemporary bleach shades.
Conventional or Adhesive Bonding
Due to their high strength, the restorations can be conventionally cemented. Alternatively, they can be adhesively bonded. This provides maximum flexibility to address clinical needs.
Full Contour or Cut-Back / Build-up Technique
IPS e.max restorations are available in two forms. You can choose full contour that provides high strength and beautiful aesthetics as an alternative to zirconia and precious metal. For more demanding cases, we can fabricate restorations utilizing the cut-back and build-up technique. Final veneering with IPS e.max Ceram, a proprietary nano-fluorapatite layering ceramic, offers unparalleled esthetics.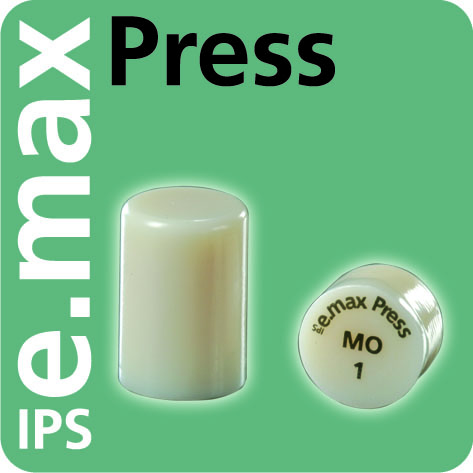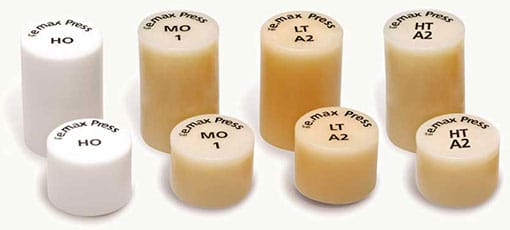 IPS e.max Press provides the ultimate in all ceramic restorations:
Outstanding aesthetics combined with high flexural strength
Exceptional wear profile on the antagonist tooth, even kinder than natural enamel
Conventional or adhesive cementation options for clinical flexibility