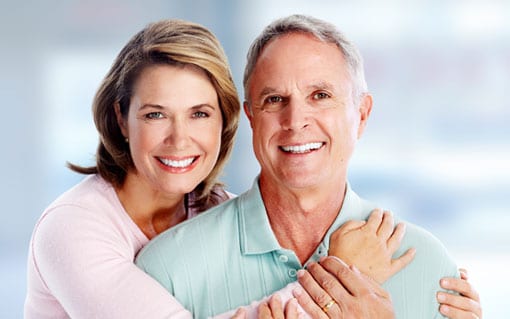 Educated Patients Seek More Choices
The use of dental implants has become mainstay in today's dental practices. As patients are becoming more educated about dental options, dentists are finding it necessary to offer more choices. The aging population demographic of baby boomers is seeking options that will meet function as well as aesthetics. They are insisting on rehabilitation that will improve the quality of their lives. With an increase in proficiency in implant placement via oral surgeons, periodontists, and skilled general dentists, the stigma of implants being too advanced and "experimental" has faded.
Implant Options Have Advanced
As implant fixtures have changed, so too have the restorative options we have available. Today, we are no longer limited by the proximity of bone to achieve a highly aesthetic result, nor are we forced to accept less than ideal treatment outcomes. With preplanning and a willingness to explore the possibilities that are available, implant cases can provide you and your patients with natural looking and functioning restorations.
Klausz Dental Laboratories is Trained & Certified in Advanced Implant Technology
Did you know Klausz Dental Laboratories is certified as a Nobel Aesthetic Laboratory, a Zimmer Biomet Preferred Laboratory Member, a Straumann Trained Laboratory, and a Dentsply Ankylos Certified Laboratory? We can provide you with the tools and guidance you need to confidently offer dental implants as a treatment option to your patients, no matter which implant system you choose.






Titanium (Ti) Based Zirconia Abutments &
Screw Retained Crowns Value and Aesthetics All In One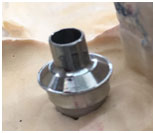 It has been well established that the optimal fit of an implant restoration to an osseointegrated implant fixture is with a metal to metal interface. In the areas where aesthetics are crucial, the use of zirconia abutments and crowns has made the aesthetic dream a reality. Trying to merge these two modalities of fit and aesthetics was a major challenge, until now.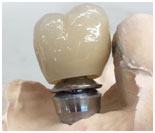 Titanium Bases (Ti Bases) make it possible to produce custom ceramic abutments and screw retained crowns & bridges, with a milled metal to metal fit. Optimal anatomical crown contours and highly aesthetic colouring in the collar area can be achieved through the use of the Ti Base and custom zirconia materials. Restorations can be manufactured for both screw and cement-retained restorations. The Ti Base for single tooth restorations features an internal anti-rotational connection, while the Ti Base for bridges has no anti-rotation geometry.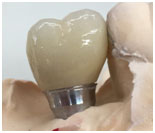 One piece, zirconia screw retained restorations can be milled, and in the laboratory cemented directly onto the Ti Base. Aesthetics and function can be achieved at a reduced cost, since there is no need for expensive, cast-to gold components or extra precious alloy that is associated with PFM restorations.
As with most designs, case selection for this technique is key for long term stability of the restoration.
Advantages of the Titanium Base (Ti Base) at a glance
Tooth-coloured abutments allow supragingival abutment-crown transitions
Compatible with a wide range of implant systems
Individualized emergence profile with an optimal anatomical shape
Available in Full Contour or Layered Zirconia Restorations
Less costly Ti Bases vs Gold Based UCLA Abutments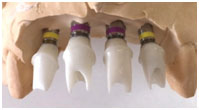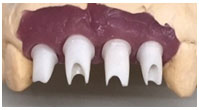 Staying at the forefront of technology and advancements in the latest design characteristics is just another way we are, "Working Harder and Smarter for your Practice!".

Custom Implant Abutments – Better Results by Design
Designed For Optimal Aesthetics
At Klausz Dental Laboratories, we believe you deserve the very best in quality, with the most advanced designs possible. Our custom implant abutments have key features you may not find anywhere else.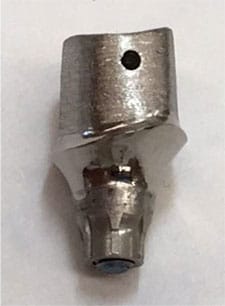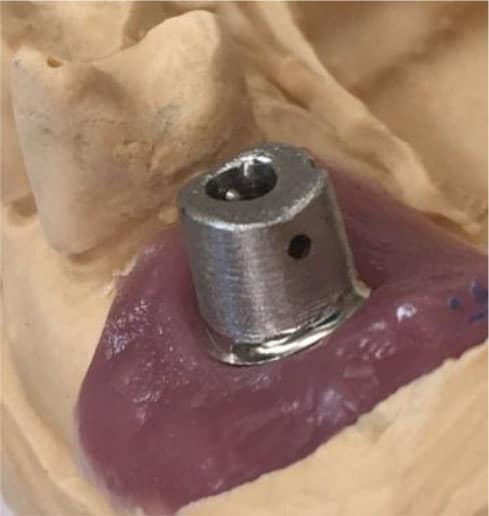 The advantages of cemented retained implant crowns includes improved aesthetics, better control of occlusion and contact areas, ideal margin positioning for a more accurate emergence profile, and in general, cementing implant restorations onto abutments more closely follows procedures routinely performed on natural teeth.  However, cement retained implant restorations are not without their issues. Multiple case reports have cited excess cement, left in the subgingival sulcus area, can be a major cause of peri-implantitis.
Clinically, excess hardened cement, left below the tissue surface, can be difficult to detect and remove. It has been hypothesized that this cement can act as a seeding layer onto which bacteria can colonize. The amount of cement needed to cause disease has yet to be established, but it would seem reasonable that reducing the volume extruded to a minimum is advantageous.
In studies conducted by Drs. Wadhwani, Pineyro, Hess, Zhang and Chung (In. J. Maxillofacial Implants 2011;26:1241-1246) (In. J. Prosthodont 2013;26:54-56. Doi 10.11607/ijp.3069), it was found that, "Leaving the Screw channel open and venting the hollowed abutment with two vent holes placed 3mm apical to the occlusal area of the abutment and 180 degrees apart resulted in the least amount of cement extrusion, into the gingival sulcus of implant retained crowns, when compared to closing off the screw access channel or even just leaving it open". Their studies suggest that the vents allow trapped air within the system to escape more readily or that the cement on the axial walls may have been pushed into the internal aspect of the access screw channel, further filling it.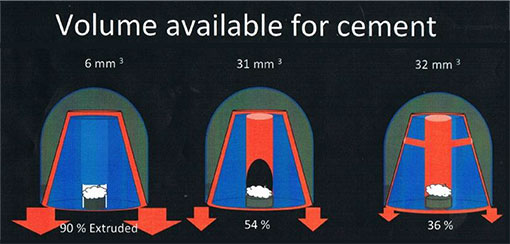 Additionally, these vents act as an internal reservoir for cement that may otherwise be extruded through the abutment-crown margin. As well, leaving the screw access channel open with or without abutment venting improved the retention of the cemented coping. Placement of two vent holes significantly improved retention by altering cement flow within the screw access channel. Fabrication of implant abutments with some form of internal venting should be considered whenever a screw access channel exists.
This is why, at Klausz Dental Laboratories, all our metal custom abutments include axial wall vent holes.

Reverse Margin Licensed Laboratory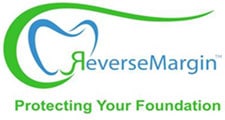 We are constantly striving for ways to improve on the quality of the restorations and services we offer our clients.
We are proud to partner with innovative companies and clinicians who are striving to advance their respected fields of dentistry. This is why we've endorsed the Reverse Margin™ design, which is part of the Cement Control System™ invented by Emil L.A. Svoboda PhD, DDS.
Increase Patient Satisfaction
Choosing the Reverse Margin™ design helps you get better results that minimize or eliminate some of the risk factors that are known to cause failure of implant treatment.
Reduce Infection
The Reverse Margin™ design helps control excess cement and intra-oral cementation improves the passive fit of implant components. Safer intraoral cementation is expected to reduce peri-implant disease related to residual excess cement and open implant-abutment connections, giving oral pathogens less places to grow.
Increase Success Rate
Residual excess cement and open implant-abutment connections are two major risk factors known to contribute to the failure of dental implants and their attached teeth. The reduction or elimination of these contributing factors are likely to decrease failure rates. Choose the Reverse Margin™ design to make treatment better for your patients.
If you are interested in learning more about the Reverse Margin™ design and the Cement Control System™, please visit www.reversemargin.com , or if you wish to try it on your next case, please contact our lab.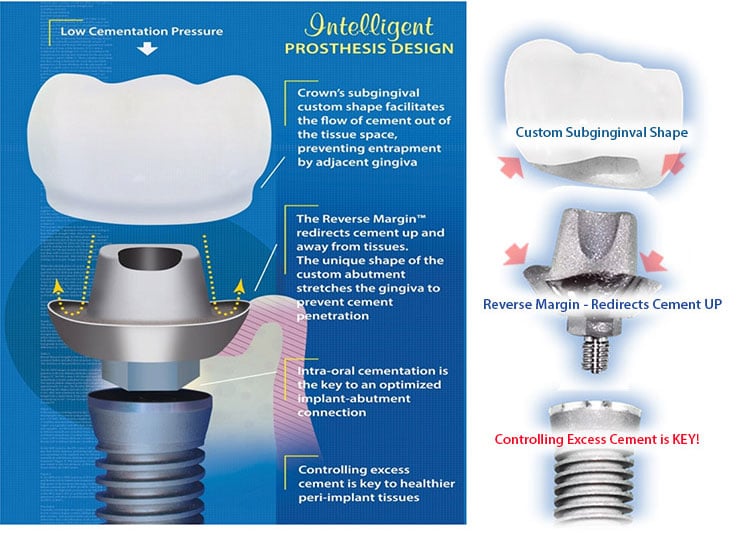 Staying at the forefront of technology and advancements in the latest design characteristics is just another way we are,
"Working Harder and Smarter for your Practice!"

Precision Milled Titanium Bars
Welcome to a new era for Overdenture Bar Treatment
We are proud to provide the latest in Precision Milled Titanium Bars. Using the precision of CAD/CAM technology, we are able to create custom Hader, Dolder, and Primary Bars for overdentures as well as Fixed-Hybrid Bars for fixed removable restorations. Never before has the ability for CAD/CAM precision frameworks existed. Welcome to a new and exciting era for overdenture bar treatment. Imagine – you may never need to cut and index a framework again.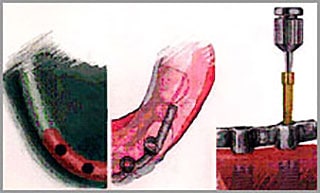 Precision milled from a solid block
Precision Milled Titanium Bars are created by state of the art scanning and milling processes and now you have access to this technology through Klausz Dental Laboratories. Milled from a solid block of titanium alloy, these restorations are lightweight and provide a passive fit without the potential weakness associated with cutting and soldering. Precision Milled Titanium Bars can interface with all the leading implant systems available in the market today thus providing maximum flexibility.
Procedural Steps
With Precision Milled Titanium Bars, the following simple steps need to be taken:
1. An accurate fixture level impression needs to be taken and a soft tissue model created.
2. Our lab will fabricate a verification jig and return this to you for indexing while the screw retained bite block and tooth set-up are confirmed.
3. Once the verification jig is tested and returned to the lab along with the confirmed soft tissue master cast, and the denture tooth try-in, then the scanning and milling processes can begin.
4. 3-D images of the proposed design, in relation to the denture tooth set-up as well as the soft tissue landmarks, are evaluated and approved prior to milling. The finished bar is returned to your office for intra-oral evaluation and confirmation of fit.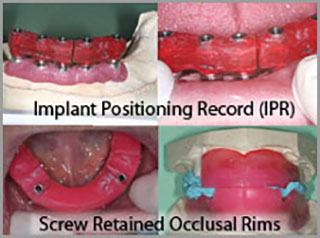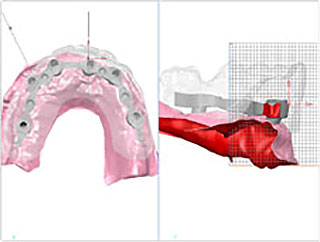 3I Biomet CAM StructSURE Software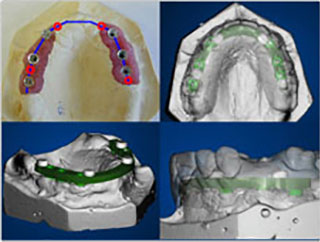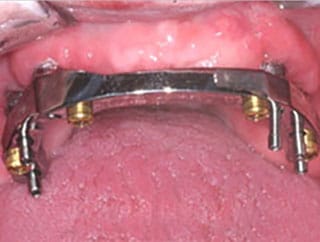 Excellence in aesthetics, form and function
Today's patients take excellent aesthetics, form, and function for granted, even for implant-based restorations. We are proud to partner with innovative companies such as 3i Biomet and BioCad to provide our clients with the very best that technology has to offer.

Our Dental Implant Planning Worksheet (PDF format)

FREE!

– With All Our Implant Restorations
Included, at no additional cost, with all our implant restorations, is a complete Implant Care Kit
This exclusively designed product contains all the items necessary for your patients to properly care for their new implant restoration or prosthesis.
Giving you more than you expect, that's the way we've been doing it for over 50 years!
It's another way we are, " Working Harder and Smarter for Your Practice! "


Milled Patient Specific Custom Abutments and Substructures
Designed For Optimal Aesthetics
At Klausz Dental Laboratories, we are always on the lookout for new and exciting materials and restorations, which are backed with clinical success and guaranteed with outstanding warranties.
Our Patient Specific CAD/CAM Milled Abutments and Substructures fit the bill.
No two implant patients are alike —so why should their restorations be? Available for all major implant systems and in the materials you want, titanium, gold-shaded titanium or zirconia, patient-specific abutments and substructures are designed to replicate natural prepared teeth, making implant treatment as simple and predictable as traditional crown and bridge dentistry. Eliminate the need to inventory parts. Just take an implant-level impression and send it to us. Uniquely designed from the final tooth shape, the highly skilled technicians at Klausz Dental Laboratories determine the exact shape and margin location for the abutments or substructures to provide optimized aesthetics and function.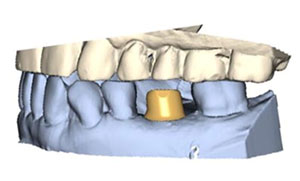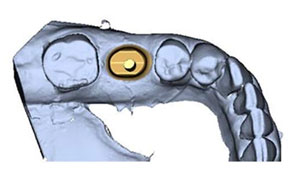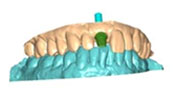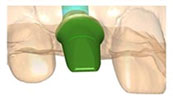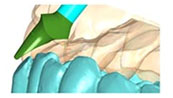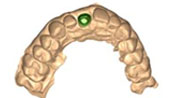 Whatever implant system you are using, Klausz Dental Laboratories offers great solutions for cement or screw retained implant prosthetics.

Klausz Dental Laboratory IMPLANT TIPS
How to avoid food traps around implants
When a natural tooth is lost and an implant placed, there is usually some type of bone loss which causes the tissue in the papilla region to recede. This in turn creates a space below the natural contact areas of teeth (Figure 1). More prevalent in the posterior quadrants, these areas can't be closed with the implant restoration as they fall into an undercut from the crown's path of insertion (Figure 2). The best way to avoid creating these potential food traps is by adjusting the contact areas of the natural teeth prior to taking the implant fixture impression. By reducing the enamel from the height of contour, the gingival embrasure below the contact will decrease in size (Figures 3 & 4). Looking for this potential problem at the onset can save quite a bit of time as well as discomfort for the patient.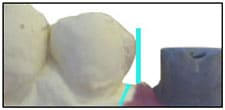 Fig. 1
Contact Point
Unadjusted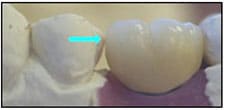 Fig. 2
Open Embrasure
Below Contact Point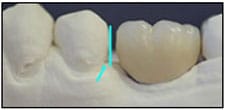 Fig. 3
Reduced
Contact Point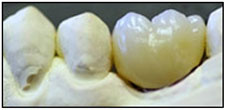 Fig. 4
Broader/lower Contact
Area & Reduced Embrasure
Make abutment insertion a snap with a custom orientation jig
Implant abutments fabricated in the dental laboratory, whether stock or custom, need to be placed consistently in the same orientation. When the case is completed and sent to the dentist's office for final insertion, this orientation needs to be transferred from the stone cast to the implant intra-orally. To do this, a "Custom Orientation Jig" should be fabricated. These jigs are made with low shrinkage, pattern resin. They should fit snugly around the core of the abutment and the lateral extensions should rest on the adjacent teeth. They can be placed on the abutment while it is still seated on the model and taken from the model to the mouth (Figures 5, 6, 7, 8).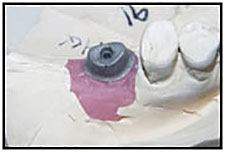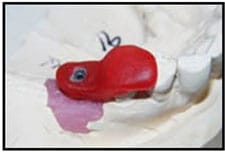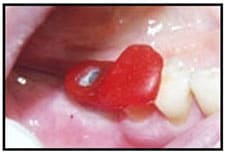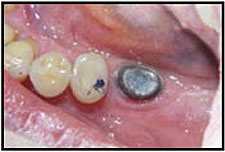 Providing Quality & Innovation for over 50 Years
One More Reason to Choose Klausz Dental Laboratories

VISIT US
---
Mailing Address
40 Kodiak Crescent, Units 11-12
Toronto, ON, M3J 3G5
HOURS OF OPERATION
---
Monday: 7:30am - 5:30pm
Tuesday: 7:30am - 5:30pm
Wednesday: 7:30am - 5:30pm
Thursday: 7:30am - 5:30pm
Friday: 7:30am - 5:30pm
Saturday: Closed
Sunday: Closed