Fixed Restorations with Our Exclusive Bite Equilibration Technique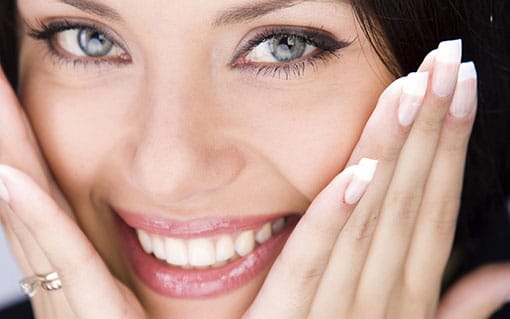 When was the last time you inserted a crown with very little occlusal adjustment? If your answer is "Never", then you need to experience the best of crown and bridge, combined with our Exclusive Bite Equilibration Technique, which was developed to eliminate most chair side occlusal adjustments. Now that we have created a crown that fits, with virtually no adjustments, how can we achieve a great aesthetic result? The taking of a shade is more than a quick color match; it involves a discriminating eye combined with the latest digital technology. At Klausz Dental Lab, we are proud to offer this invaluable service, and once again, not only do we want to meet your expectations, but we try exceeding them.
Our Exclusive Bite Equilibration Technique
In a poll of dental offices, the number one complaint with fixed restorations, be it porcelain fused to metal, all ceramic, or polymer glass, is the excessive time loss associated with adjusting the occlusion or even having to grind in the bites. While following the philosophies of the L.D. Pankey Institute combined with our exclusive in-lab Bite Equilibration Technique, performed to accurate, articulated models, we have been able to eliminate approximately 95% of chair side adjustments. Our technique consists of eliminating all bubbles from the occlusal surfaces of the casts, and with fine articulating paper, looking for high spots in occlusion and then eliminating them until more stable contact markings appear.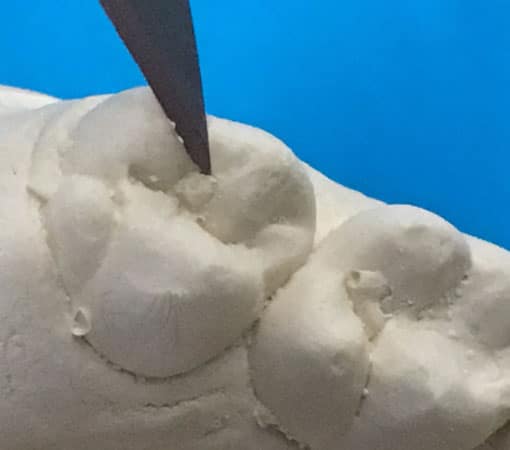 Step 1 – Eliminate all visible distortions on the occlusal of the teeth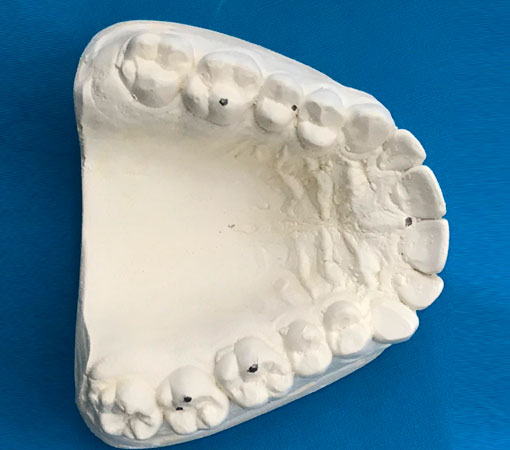 Step 2 – Check the occlusion and eliminate high spots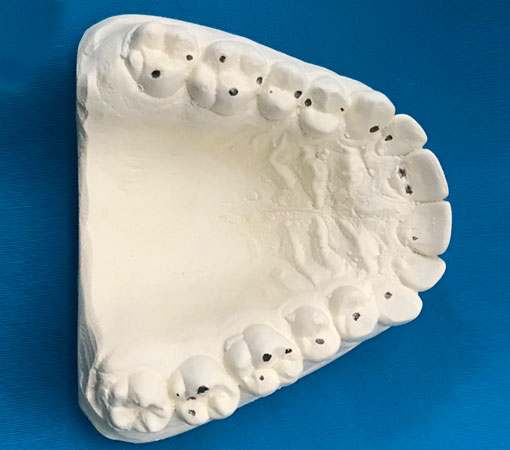 Step 3 – repeat the procedure until more stable occlusal markings
Time is money
How much time and income are you losing by grinding? Use this simple analysis and substitute your own figures:
20 minutes to adjust each crown x 6 crowns/month = 2 hours/month
2 hours/month x $300.00 of chair time/hour = $600.00/month or $7,200.00 per year of wasted, non-productive chair time directly out of your pocket.
Money-Back Guarantee
We are so sure we will be able to reduce the amount of time you spend adjusting our fixed restorations that we are willing to give this amazing offer. If you do not feel we have considerably reduced your chair side adjustments on your first crown, inlay or onlay with us, we will credit you the full invoiced amount for the laboratory fee.
Consequently, if you are not satisfied, you get your money back and can keep the restoration, no strings attached. That's how sure we are that we can provide you with greater piece of mind. How can we be so sure we can save you time and money? Because we are already helping many of your colleagues do just that. The sooner you call, the sooner you can stop grinding and adjusting restorations and put your time to more productive use.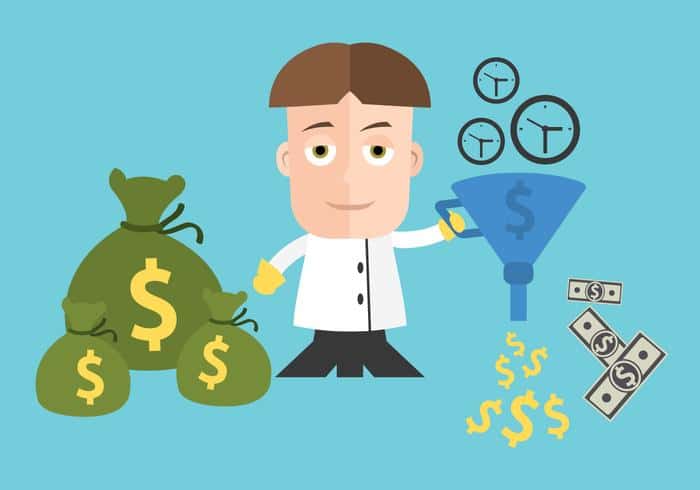 Reduce Chair Side Adjustments by approximately 95%

Through discussions with dentists for over 50 years, we found the number one complaint with fixed restorations, regardless of the material selected, is the excessive time loss associated with adjusting the occlusion or even having to grind in the bites.
We've found a solution that has proven itself over time. Using our Exclusive Bite Equilibration Technique, we have been able to successfully eliminate approximately 95% of all chair side occlusal adjustments.
"If you are interested in finding out how you can benefit from this technique, please read the article I've written and was recently published in the April 2018 issue of Oral Health Journal."  Ron Klausz, RDT

In-Lab Cosmetic Consultations
The Right Shade Selection-
More Than A Quick Colour Match
One of the most difficult and frustrating tasks in modern aesthetic dentistry is the taking of shades, and then relating this crucial information to the lab. The challenges involved in trying to match a single central incisor can be extremely stressful.
Correct shade selection is more than just choosing the right base shade. It involves determining which incisal porcelains to use and where to place them to mimic the natural dentition. Let's not forget about those areas of intense colors, decalcification and staining which are next to impossible to relate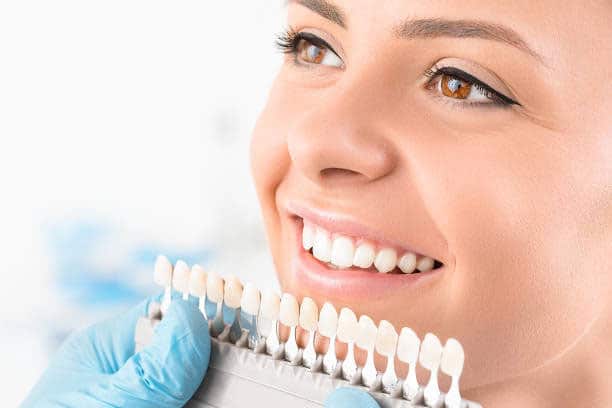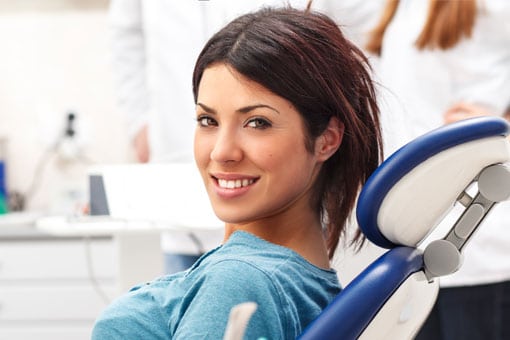 We have a solution to this daunting task. We have refined our in-lab shade taking process and integrated digital technology to provide our clients with what we call Cosmetic Consultations. Let one of our experienced ceramists create a detailed shade mapping while taking note of such details as: surface anatomy, translucency, and incisal characteristics. To complement the shade selection, we take a series of digital photographs that will serve as a guide to tooth contour and individual facial characteristics.
The next time you're faced with the disheartening task of a difficult shade match, why not take advantage of a Cosmetic Consultation. It's just another way we try to improve on the products and services we provide to our clients.
Schedule your first patient's appointment today. You'll be glad you did!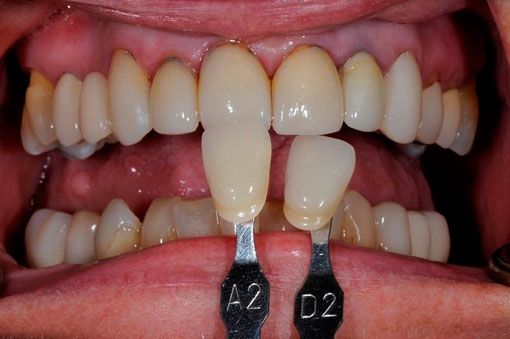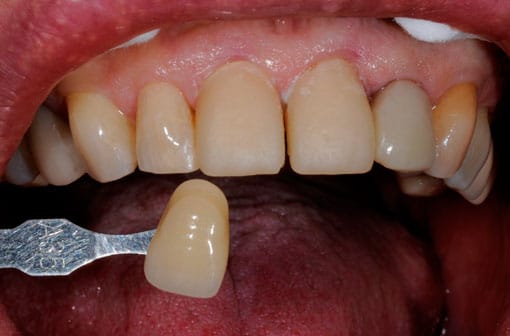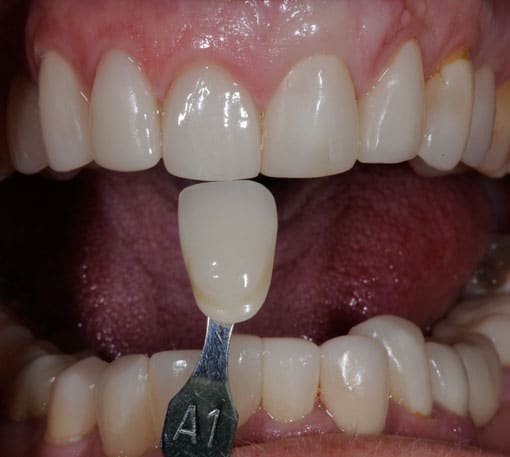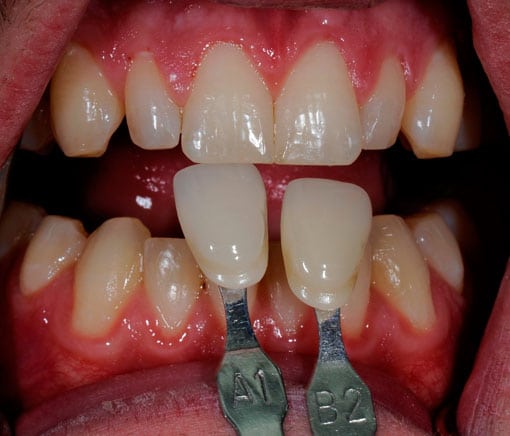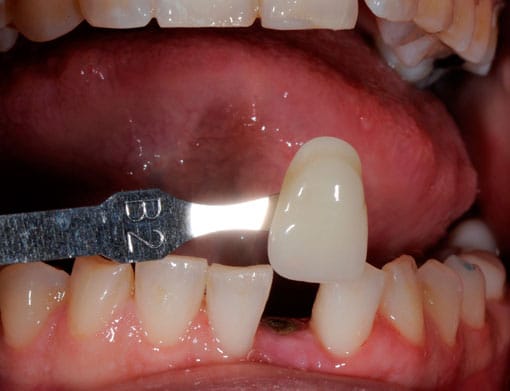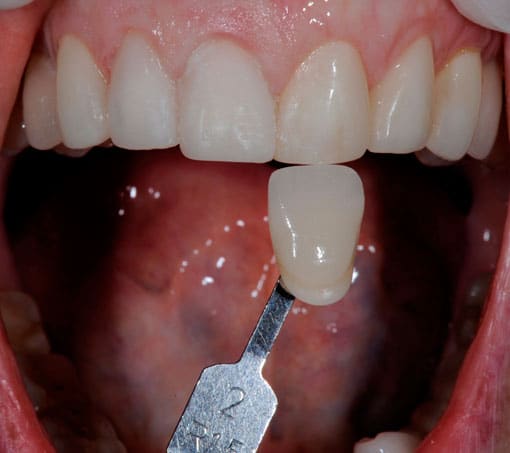 Chair Side Ceramic Colourization
Now available from Klausz Dental Laboratories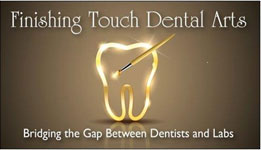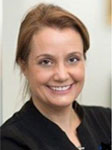 Jo-anne Benninger
Ceramic Colourization Specialist
We are always looking for ways to improve on the quality and service we provide our clients. By partnering with highly talented and energetic people, we are able to provide our clients with the best dental technology has to offer. We are excited to announce we've partnered with Jo-anne Benninger and her company, Finishing Touch Dental Arts to be able to provide our clients with in office Shade Selection and in office Custom Staining.
Finishing Touch Dental Arts offers a unique solution to aesthetic dentistry. They will provide you with the personal touch of ceramic colourization and porcelain adjustments in your own office.
Bridging the Gap Between Dentists and Labs
Preparation Appointment
Use of Portable Daylight Correction Light
Digital Photography
Custom Mapping of the Teeth

11 Layered Zirconia Crown
Preparation Appointment
Colourization of Crowns or Veneers
Any Minor Porcelain Adjustments
Patient Satisfaction
12-21 Layered Zirconia Crowns
Achieve an Ideal Cosmetic Result
Increase Patient Satisfaction
Liaison Between the Dentist & Lab
Her Fees Added to Your Lab Invoice
If you're interested in learning more about this unique service, or
to schedule your first patient's appointment, please call the lab for more details.

Try It Before You Buy It
Materials Below are Available On Loan
Quick Up – Luting Material
Easy Clinical Capture of Over Denture Attachments Without Stress.
Now available on loan from Klausz Dental Laboratories, The Quick Up Kit contains a unique self-curing luting material for capturing attachments and secondary denture parts.
Anyone who has ever tried to lute attachments to denture bases intra-orally has always been concerned with the risks of locking the denture base into undercuts and being unable to remove the denture. With the Quick Up Kit by Voco this risk is eliminated. This gingiva-coloured composite for luting attachments, such as ball, Locator, Novaloc, and telescope retention elements into prosthetics with acrylic bases has revolutionized this once stressful task.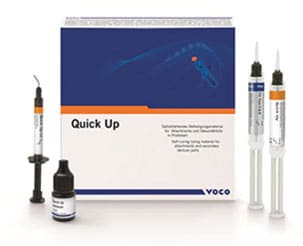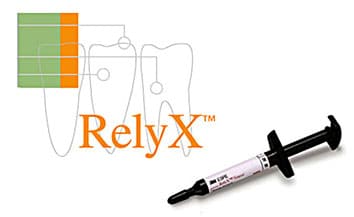 RelyX – Veneer Cement Kit
Bonding Veneers Made Simple with Klausz Dental laboratories and 3M ESPE
The simplicity you want and the reliability you need.
On your next veneer case with us, we'll be glad to send you our RelyX Veneer Cement Kit, complete with shaded try-in pastes and colour corrected cements.
For more information about RelyX Veneer Cement or on utilizing our kit, please call the lab.
Providing you with the best materials is just another way we are, "Working Harder and Smarter for your Practice!"
For Taking Protrusive Bite Records for Mandibular Advancement Appliances such as the Panthera D-SAD
The George Gauge allows the clinician to capture a protrusive bite registration and vertical opening of the mandible while eliminating guesswork. It's an easy to use tool which provides an extremely accurate way of recording a protrusive bite registration for all Mandibular Advancement Appliances.
The George Gauge can be purchased through our laboratory or you can "try before you buy" as we have a George Gauge that we will gladly loan to you.
VISIT US
---
Mailing Address
40 Kodiak Crescent, Units 11-12
Toronto, ON, M3J 3G5
HOURS OF OPERATION
---
Monday: 7:30am - 5:30pm
Tuesday: 7:30am - 5:30pm
Wednesday: 7:30am - 5:30pm
Thursday: 7:30am - 5:30pm
Friday: 7:30am - 5:30pm
Saturday: Closed
Sunday: Closed